Keep Calm and Celebrate St. Patrick's Day!
Get ready for the Irish holiday coming up on March 17th. The popular British propaganda phrase goes Irish with these fun spoof t-shirt designs that are perfect for St. Patrick's Day. Find your favorite for your celebrations or get your crew together and get matching Keep Calm t-shirts.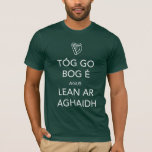 This spoof design basically translates Keep Calm and Carry On from English to Gaelic, the Irish language. It might be more closely translated as Take It Easy and Move On, but the idea still comes across. Here a harp, used as an emblem of the Irish Free State since 1922, replaces the typical crown used in the original propaganda.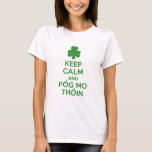 This festive t-shirt uses Gaelic again for a funny message. The second part of the slogan translates as "Kiss My Ass". For anyone who doesn't speak Gaelic, the shirt design looks like it has some exotic text. The crown icon is replaced with a lucky shamrock silhouette. The green text and icon looks great on a white t-shirt as shown here.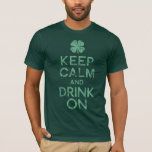 Get ready for your St. Patrick's Day pub crawl or party with this fun and festive t-shirt. Keep Calm and Drink On is accompanied by a lucky four leaf clover. The text and icon in light green pops on a dark green shirt as shown here, and the design is distressed for a stylish vintage look.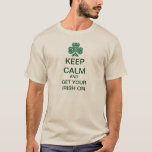 A lucky shamrock illustrated in a Celtic art style is at the top of this fun t-shirt for St. Patrick's Day. Keep Calm and Get Your Irish On is great for those with Irish heritage or those who like playing Irish at least one day a year. Get this on a light sand colored shirt as shown here for a stylish look.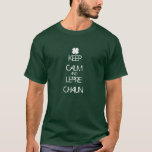 This funny take on the familiar propaganda phrase rhymes with the original slogan in a unique way. The slogan Keep Calm and Leprechaun is accompanied by a lucky four leaf clover icon. The design in white print is distressed for a vintage look, and pops on a dark green shirt as shown here.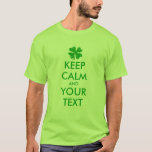 Customize the text on this green design to make your own funny and unique phrase for St. Patrick's Day. A big lucky four leaf clover appears above the phrase. The entire phrase is customizable, so you can change the second half of the slogan or the entire text on the tee. The green text and logo look great on a light green shirt as shown, but you can pick from Zazzle's wide selection of apparel styles and colors for the whole family.