Keep Calm and Get Ready for Halloween
Spread Halloween cheer with slogan t-shirts modified for the spooky holiday. Traditional slogan format shirts join wild designs with unique fonts and color schemes. The fall holiday comes up in just over a month so you've got time to plan your fun holiday outfits!
A bio-hazard symbol in red tops this slogan t-shirt. Distressed white text reads KEEP CALM AND KILL ZOMBIES against a blood spatter red background. Looks best on black as shown here.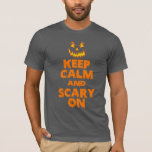 A creepy jack-o-lantern face tops this Halloween slogan t-shirt. KEEP CALM AND SCARY ON is fun because it rhymes with the familiar original propaganda slogan. The text is written in a creepy orange font.
This fun slogan design for Halloween is bold and colorful. Green, white, and purple text is accompanied by images of ghosts, jack-o-lantern candy buckets, and creepy white skulls. Keep Calm and Eat More Candy is shown here on a unisex black t-shirt.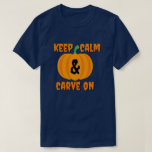 This cute Halloween take on the old British propaganda phrase uses an orange pumpkin icon in the middle of the slogan. The text is done in a creepy, drip-look font style. Keep Calm and Carve On is great to wear on pumpkin carving day!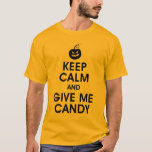 Wear this funny Halloween slogan t-shirt as a simple costume and reap the benefits -- candy! Bold black text is topped with a simple creepy jack-o-lantern silhouette. This looks great on on a gold shirt as shown, or an orange shirt.