Keep Calm Reign On Queen Jubilee Button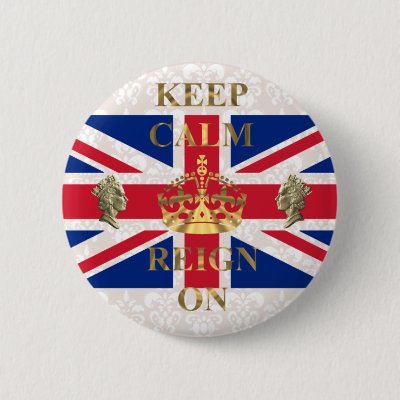 Celebrate Queen Elizabeth's upcoming amazing 70 years on the throne with this fun Keep Calm take on her long reign. The design is backed by a pale damask pattern. Keep Calm and Reign On is printed in regal text using a golden font that appears to shine. The Union Jack flag backs the text, and two classic embossed-style profile portraits of the queen appear on either side of the central crown. There is a lot going on with this design, and that's appropriate, considering the historical nature of her long reign!
Shown here on a standard size 2.25" round button, this design can be transferred to different product styles by using Zazzle's easy tools. Look for "View all products" on the pinback product page to transfer the design to anything else in Zazzle's catalog. Get ready for the June weekend celebrating Her Majesty the Queen with this fun pinback button!
More Keep Calm and Reign On Gift Ideas